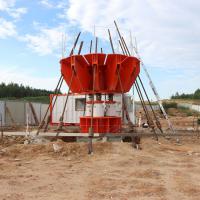 Scientists from the University Center for Energy-Efficient Buildings of Czech Technical University participated in the load tests of the lamellas of the underground walls of the Pohůrka tunnel, which will be part of the completion of the D3 highway near České Budějovice, as part of the delivery of services to the company Zalakdání staveb. In this context, they used a unique measurement method using Fiber Bragg Gratings fiber optic sensors.
In just a few years, drivers will drive under the surface in the section 0310/I Úsilné – Hodějovice. Due to the complicated geotechnical and hydrogeological conditions in combination with the demanding construction, it was necessary to carry out load tests of the slats of the underground walls designed at the same time as the arming, supporting and sealing structures of the excavated tunnel.
Our client, the joint stock company Zakládání staveb, provided the execution of the tests and the design of their procedure. During the load tests, CTU UCEEB workers were in charge of measuring the relative strain and determining the normal stress in three test lamellae of different lengths.
They accomplished their task using two methods. The first of them is measurement with resistance strain gauges, which is commonly used for the given purposes. Each strain gauge is connected to the measuring center by a cable, more than 2.5 km of cables were used for the connection in this order.
The second method is measurement using Fiber Bragg Gratings (FBG) fiber optic sensors, where the required number of measurement points are placed on one optical cable and the entire measurement line is always connected to the measurement center. The use of FBG sensors is quite unique in this context. The test slats with lengths of 17 and 27 meters were fitted with a total of 52 resistance strain gauges and 52 FBG measuring points. 52 individual cables for strain gauges and eight individual cables for FBG sensors were needed to connect to the control panels. The 40 meter long test lamella was equipped with 36 resistance strain gauges, FBG sensors were not used in this case.
Compared to the standard tensometric measurement, the use of fiber optic sensors for such purposes has proven to be completely satisfactory and at the same time comparably functional and reliable. The evaluated results of the measurements were handed over to the client for further processing and assessment of whether the proposed structure will comply with these very adverse conditions.