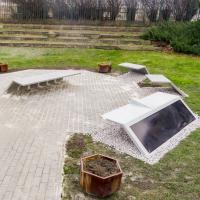 The University Center for Energy-Efficient Buildings of CTU succeeded in the competition of business plans entitled GREAT IDEA. It scored in it with Levitee urban furniture, which won in the Best Innovation category.
The aim of the competition, organized by PowerHUB, the Pardubice Business Incubator and other partners, was to find new business projects, give them the opportunity to consult their solutions and gain new experience as well as potential business partners and investors.
Tomáš Vlach from the Laboratory of Composite Structures of the Czech Technical University UCEEB designed Levitee furniture as a set consisting of a cantilever bench and accessories that should bring wide variability when placed in public spaces. Depending on the degree of its equipment with intelligent technologies, the bench offers various functionalities, such as connecting to Wi-fi, charging mobile devices or measuring air quality.
You can find more details about the Great Idea competition, including the press release, at jejím webu.