Registration number: H20-633477
Provider: European Commission - Horizon 2020
Solver: Ing. Antonín Lupíšek, Ph.D.
Start: 11.12. 2014
End: 30.05. 2019
Partners: Huygen Installatie Adviseurs (coordinator), Zuyd University, BJW, WEBO, Riga Technical University, Latvia Wood Construction Cluster, Technological Center of Zemgale, Tallinn University of Technology, ASMatek, REF Ehitustood, University of Minho, Darkglobe, Cenergia, Innogie ApS, Invela ApS, RD Rýmařov, Econcept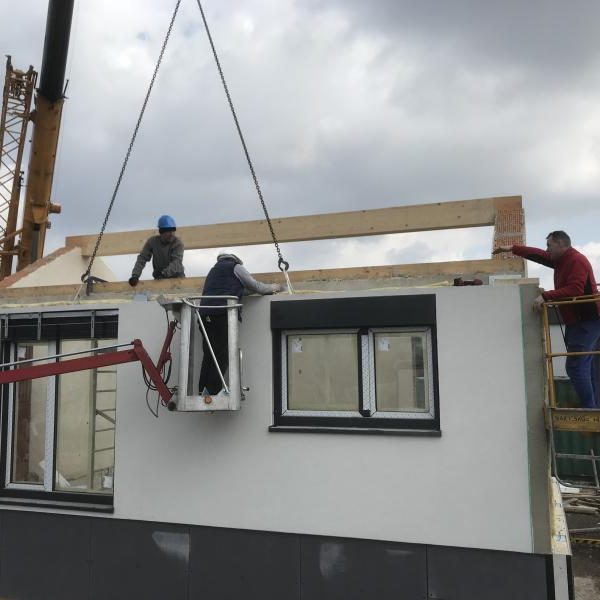 The goal of the MORE-CONNECT international project was to develop a modular solution for the energy rehabilitation of apartment buildings, which will have a low carbon footprint, enable the conversion of the existing building to zero energy, enable the improvement of the internal environment, and can be industrially produced as prefabricated parts.
When solving the project, we first mapped in detail the needs of the users of older apartment buildings and the requirements for rehabilitation resulting from the usual technical condition of the buildings. We responded to the findings with a set of architectural studies. According to them, we designed a system of prefabricated parts, whose warehouses and critical details we subjected to detailed simulations. We made functional samples of the parts, on which we verified the functionality of the anchoring and mutual connection in laboratory conditions, and we experimentally verified the fire safety of the ventilation ducts inside the structure. In BIM, we modeled a small demonstration object on which we verified the method of installing the elements in one day on a real scale. The object is used and monitored, it is possible to see it during excursions at UCEEB.
The main result of the project developed at UCEEB is a complex system of prefabricated wood-based parts for energy renovation of buildings, which is suitable for buildings with an external load-bearing wall and a reinforced concrete ceiling. The system is intended primarily for apartment buildings, but it can also be used for family houses or smaller office buildings. The main advantage of the system, which transforms older houses into zero-energy buildings, is the speed of installation, which allows for the pre-fabrication of individual parts, an integrated solution for ventilation distribution using an air-conditioning unit with recuperation, and the possibility of controlling the internal environment individually using a mobile application. The system as a whole is ready for introduction into production, we are ready to help with the fine-tuning of details in connection with specific suppliers of integrated technologies according to the specific needs of the manufacturer.
More information about the project: www.more-connect.eu.
This project received financial support from the European Union's Horizon 2020 research and innovation program under grant agreement No. 633477.