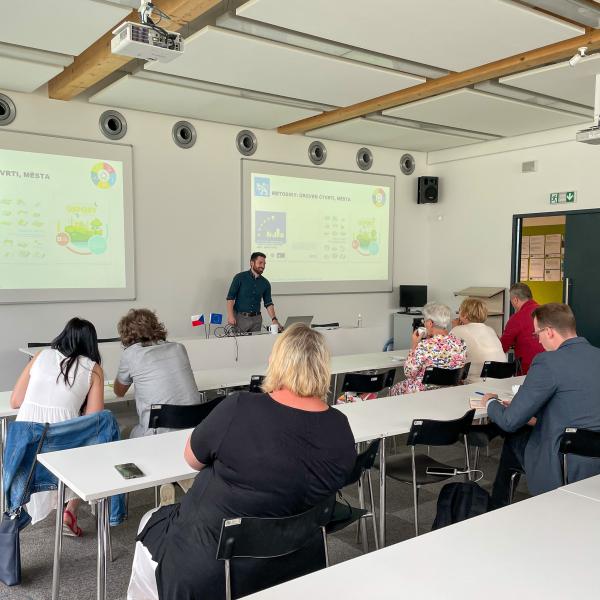 The CTU University Center for Energy Efficient Buildings offers advantageous cooperation to small municipalities with up to 5,000 inhabitants. And not only when using renewable energy sources, but also in other areas, such as for example the solution of municipal spaces or water management.
In addition to large cities, smaller villages are also interested in innovative technologies. For example, for Soběhrdy in Posázaví, we developed a resource concept for the municipal office building with an emphasis on energy from renewable energy sources (RES). This is the first step towards creating a local microgrid that will include both municipal and private buildings.
Other municipalities from the south of Bohemia have similar plans, whose representatives, together with other members of the South Bohemian local action groups, visited our headquarters in Buštěhrad on September 13, 2021. The interests of individual municipalities differ and include plans to build a local micro-power plant and an energy community, or to join the Energy Efficiency Network (EEN), which CTU UCEEB is preparing for 2022.
The main difference from previous years is that now even smaller municipalities are speaking out on their own with plans to build their own resources based on RES and create community networks. Thanks to the upcoming subsidies from Národního plánu obnovy a Modernizačního fondu these topics are much more attractive.
"We set aside part of our professional capacity so that we could process the necessary documents for the municipalities. Even local energy strategies at the level of associations of municipalities (MAS, DSO, etc.) or shared energy managers are no longer as exotic as they were in the past. In addition, we help municipalities with proměnou veřejných prostranství and hospodařením s vodou. If you are currently dealing with these topics, you can contact us directly," says the head of interdisciplinary cooperation at the Czech Technical University UCEEB Michal Kuzmič.