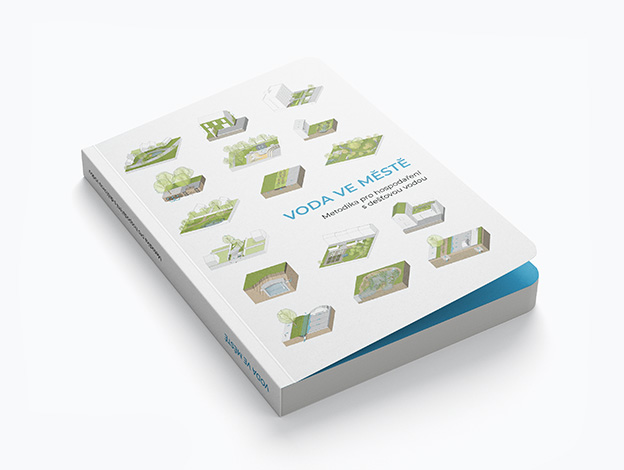 The University Center for Energy-Efficient Buildings of the Czech Technical University, in cooperation with the Institute for Economic and Environmental Policy, UJEP, is preparing an expanded reprint of the successful Water in the City methodology, which has aroused great interest among the professional public and enthusiasts for sustainable management of rainwater and greenery in cities . Thanks to the campaign on the Hithit platform, all those interested in the printed version who did not get a chance to purchase this publication for their library or donate it to their municipality or city.
The methodology was created as part of a two-year collaboration between the CTU UCEEB teams led by Martina Sýkorová and the Jan Evangelista Purkyně University in Ústí nad Labem, headed by Jan Macháč. The publication guides city representatives through the preparation, planning, implementation and maintenance of measures for rainwater management (HDV) in connection with blue and green infrastructure.
"
Last year, we completed the Water in the City methodology, the creation of which was funded by a grant provided by the Technology Agency of the Czech Republic. As part of the project, we sent the first copy to representatives of cities with more than ten thousand inhabitants, libraries, universities, state administration, and associations that deal with sustainable rainwater management in the long term. However, the interest in the book was significantly greater than our financial capabilities
rámci project,"
says Martina Sýkorová.
The publication was also of great interest among planners, students or other enthusiasts of sustainable rainwater management, who were not able to access it due to a lack of copies, and therefore had to be content only with the electronic version downloaded from the website
www.vodavemeste .cz
. Not only for them, but also for all others interested in the printed edition of Water in the City, a campaign has now started on the Hithit portal (
www.hithit.com/vodavemeste
) with the aim of collecting money for reprinting.
Compared to its electronic version, the printed methodology will bring greater comfort to its users when viewing and reading. In addition, they will have representative material in their hands, which will be a support for them in negotiations on the promotion of a sustainable approach to rainwater management. Compared to the previous version, the reprint of the publication will contain bonuses – a chapter on the communication of HDV measures to the public and several other case studies.
www.hithit.com/vodavemeste