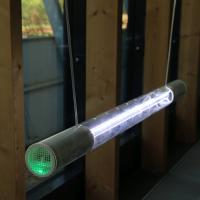 In cooperation with the company Sans Souci and the University Center for Energy Efficient Buildings of CTU, a tubular lighting fixture equipped with sensors for measuring the quality of the indoor environment was created.
The tubular lighting fixture is made up of a pair of CCT LED strips, one of which points down as the main direct lighting and the other up for diffused lighting. For both strips, both the lighting intensity and the chromaticity temperature can be independently adjusted via the DALI interface (Digital Addressable Lighting Interface). An interesting feature is the use of only one commercially available DALI RGBW driver with one DALI address, whereas normally at least two addresses would be used.
The main added value to the intelligent lamp is the sensor head located on the edge of the glass tube, which enables the measurement of basic parameters of the indoor environment. The measured variables include temperature, relative humidity, concentration of CO2, volatile organic substances and dust particles, and last but not least, smoke and room occupancy detection.
For the easy integration of this head into the superior system, the option of reading out the measured parameters via the DALI interface at the second address was chosen. The entire intelligent light is then connected using two cables - power (24 V) and data (DALI), which are also used for hanging. It is also possible to connect to the light using Wi-Fi and view the measured values on the web server.

The company Sans Souci received support for the development of an intelligent lamp from the subsidy program: Operational program of business and innovation for competitiveness. Business plan: Integration of microcomputers into lighting systems.