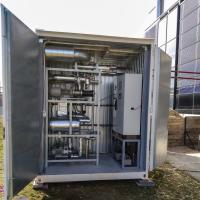 The prototype of the WAVE 120 device was launched in test mode on the grounds of the University Center for Energy Efficient Buildings of CTU in Buštěhrad. Mikolajice in the Opava region.
The team of the Laboratory of Organic Rankine Cycles and their Applications (LORCA), under the leadership of Jakub Maščuch, managed to achieve the projected parameters of 120 kW of thermal and 6 kW of net electrical power (after covering all the own consumption of the entire device). The WAVE 120 container boiler is ready for the so-called Ecodesign certification, which should take place at the end of April 2020. This year, it is also expected that four devices of this type will be put into pilot operation, during which they will supply the sawmill with heat and electricity.
The development of the WAVE 120 micro power plant was supported by the Technology Agency of the Czech Republic as part of the project Cogeneration ORC unit with a heat output of 120 kW on wood chips in a container design.