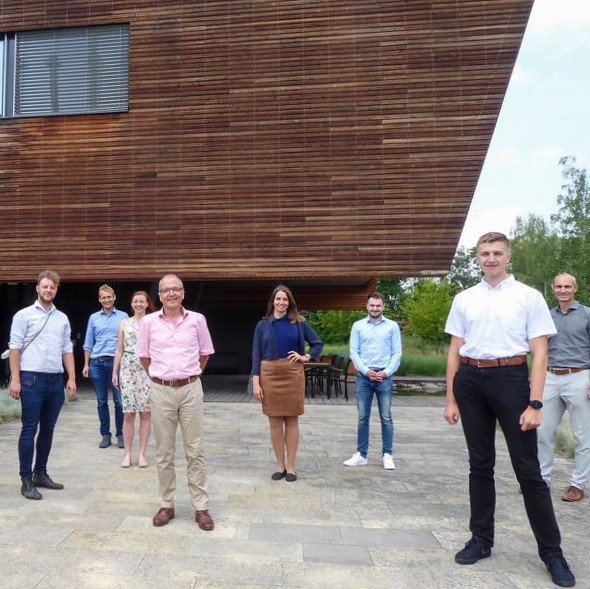 On the occasion of the announcement of the call "Horizon Europe - Sustainable, secure and competitive energy supply", the CTU University Center for Energy Efficient Buildings organized a workshop and coworking in cooperation with German, Austrian and Czech partners. As part of this event, an international consortium led by the Competence Center for Combined Heat and Power (KoKWK) at the OTH Amberg-Weiden has been set up to submit and receive the project "CaBAb - Carnot Battery by Absorption Technology" (CaBAb).

A Carnot battery is a system that uses a heat pump to convert excess electricity from sustainable sources into heat in order to convert it back into electricity when needed or to use it as thermal energy for other purposes. As the share of time-varying renewable sources in the European transmission network is constantly growing, so is the need for energy storage.
The project follows on from the joint research topic of the use of waste heat for the production of electricity using the organic Rankine cycle (ORC), which all members of the consortium have been working on for a long time, i.e. Laboratory of Organic Rankine Cycles (LORCA) CTU UCEEB, KoKWK OTH-AW, Center for Energy Technologies at the University of Bayreuth and Center for Energy Technologies at the Technical University of Vorarlberg. The initiative for the joint project came from the industrial company AGO Energie + Anlagen in Klumbach, which is an established company on the absorption heat pump market.
Processing a project application is very time-consuming, the statistical chance of success of 10-30% is soberingly low. The project team is supported by the Bavarian Research Alliance (BayFOR) for the best possible preparation.
The workshop and coworking meeting took place with the support of the project Improving the quality of supporting infrastructure in the field of energy-efficient construction of the Inter-Excellence program, the Inter-Inform sub-programme of the Ministry of Education, Youth and Sports.