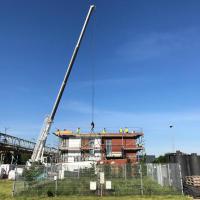 The University Center for Energy-Efficient Buildings of CTU is participating in the TiCo project, which will use the advantages of prefabrication in the construction of apartment buildings and combine the strengths of two commonly used systems – a load-bearing reinforced concrete frame and a wooden panel system for outer skins and internal dividing structures .
The main goal of the TiCo project (abbreviation for Timber Concrete) is to create, in cooperation with the companies RD Rýmařov sro and ŽPSV sro, a flexible building system for the construction of multi-storey apartment buildings of the new generation, synergistically using the advantages of light load-bearing structures based on wood and subtle load-bearing structures based on high-quality concrete for maximum use of precise prefabrication.
Both main materials have their technological and physical limits, which result in their strengths and weaknesses. The key problem solved within the project is the development and optimization of both material-construction principles and their continuity (interface between systems) with the aim of achieving such parameters that will enable the realization of materially and energy-efficient construction of apartment buildings that meet current requirements and challenges.
You can read more details about the project on the TZB-info.cz portal in the article TiCo – prefabrikovaný stavební systém pro bytové domy z dřevěných panelů s betonovou nosnou konstrukcí