Registration number: GA no. 101036723
Provider: European Commission - Horizon 2020
Solver: Ing. Robert Wawerka, Ph.D.
Start: 01.01. 2022
End: 31.12. 2025
Partners: Norwegian University of Science and Technology, Architects Council of Europe, Technical University of Denmark, Danfoss AS, ENFOR AS, Project Zero, EURAC Research, SINTEF, Palma City Council, IBAVI, Catalonia Institute for Energy Research, METROVACESA, University of Applied Sciences Utrecht , Housing Europe, Buro de Haan, Center Denmark/EU Digital Innovation Hub Sønderborg Andelsboligforening, Green Digital Finance Alliance, Stichting Bo-Ex '91, RC Panels, Utrecht University, Municipality of Utrecht, Bos Installatiewerken BV, iWELL, MEX Architects BV, Mitros Stichting Portaal, Municipality of Karvina, Dolomiti Energia Habitech, University of Trento, Politecnico of Turindi Torino, Oslobygg KF, NanoPower, AIGUASOL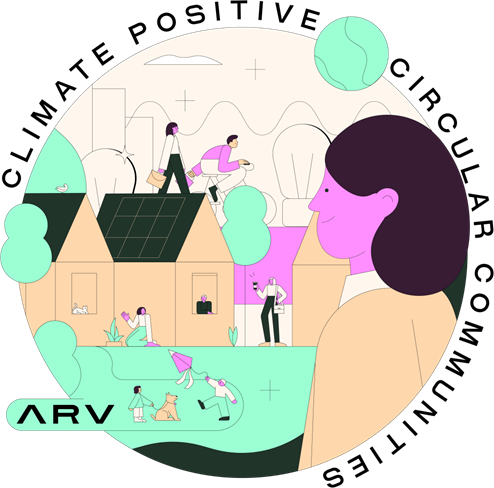 The ARV project's vision is to contribute to the rapid and widespread deployment of Climate Positive Circular Communities (CPCCs) where people thrive and prosper for generations.
The overall goal is to demonstrate and validate attractive, durable and affordable solutions for CPCC that will significantly accelerate deep energy renovations and the implementation of energy and climate measures in the construction and energy industries.
To achieve this goal, the ARV project will use a new concept consisting of a combination of 3 conceptual pillars, 6 demonstration projects and 9 thematic areas.
The three conceptual pillars are integration, circularity and simplicity. Integration in ARV means connecting people, buildings and energy systems through multi-stakeholder co-creation and the use of innovative digital tools. Circularity in ARV means a systematic way of addressing the circular economy through the automated use of LCAs, digital logbooks and material banks. Simplicity in ARV means that solutions are easy to understand and use for all stakeholders, from manufacturers to end users.
These 6 demonstrations are urban regeneration projects in 6 locations across Europe:

Oslo in Norway
Sønderborg in Denmark
Karviná in the Czech Republic
Utrecht in the Netherlands
Palma de Mallorca in Spain
Trento in Italy

They have been carefully selected to represent different European climates and contexts and for their high ambitions in terms of environmental, social and economic sustainability. Specifically, they focus on the renovation of social housing and public buildings. Together, they will showcase more than 50 innovations on more than 150,000 m2 of buildings.
Nine thematic areas are focused on:

1) Effective planning and implementation of CPCC,
2) Citizen involvement, environment and well-being,
3) Sustainable building re(design)
4) Resource-friendly manufacturing and construction workflows,
5) Integrated renewables and storage,
6) Energy management and flexibility,
7) Monitoring and Evaluation,
8) Business models, financial mechanisms, policy and use,
9) Communication, dissemination of information and outreach to stakeholders.

There are 35 partners in the ARV project who represent the entire value chain in the field of construction and energy.
The project is financed by the Green Deal initiative and falls under the EU Horizon 2020 framework program.
You can find the project website here.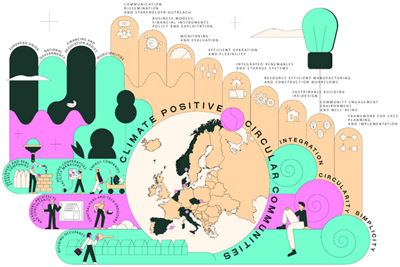 Figure 1: ARV concept with 6 demonstration projects of Climate Positive Circular Communities riding a wave of renovation (3 waves containing the pillars of integration, circulation and simplicity) supported by different stakeholders working together to innovate in 9 thematic areas.