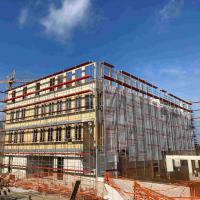 The MoistureGuard system developed by the University Center for Energy Efficient Buildings of the Czech Technical University is part of the building of the Innorenew CoE research center in the Slovenian seaside resort of Izola. The installation of sensors makes it possible to monitor the influence of the seaside climate on the wooden structure and detect any problems with increasing humidity in time.
A three-story research center building Laboratoř kompozitních konstrukcí ČVUT UCEEB is being built on the coast of the Mediterranean Sea in the Gulf of Venice?!? dealing with the application of natural materials and their use, which after its completion will be the largest wooden building in Slovenia. It will house laboratories, offices and open space for scientists from all over the world. The construction of cross-laminated timber (CLT) exposed to the conditions of the maritime climate offers a unique opportunity for the deployment of the MoistureGuard system, which allows continuous monitoring of the effects of the surrounding environment on the condition of the building.
Monitoring of the building envelope, including insulation layers, is ensured using 36 installed HT02 sensors measuring humidity and temperature, as well as four MHT04 sensors measuring the mass humidity of CLT panels. The sensors are located at measuring points at four height levels on all sides of the building and will be connected directly to its data infrastructure. This creates one of the really smart wooden buildings, which is both equipped with a control system and its construction itself is monitored at the same time.
More details about the MoistureGuard system can be found on the website https://www.moistureguard.cz/