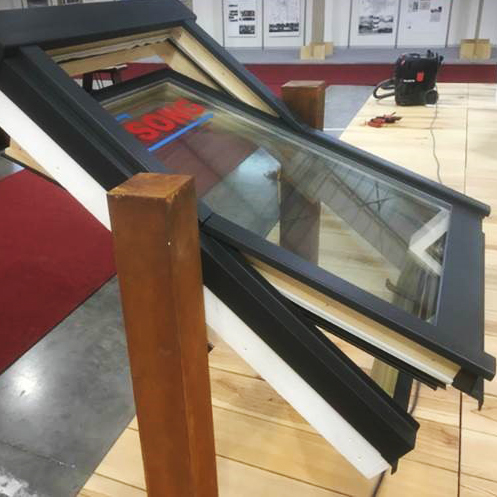 Elements for natural lighting of attic spaces, most often skylights and skylights, have long been among the weakest points of the building envelope. Roof transparent elements of the new generation (skylights, skylights) with frames made from project-developed and verified bar solid profiles made of hardened plastic, homogeneous or composite, will be designed and verified in variants. The possibilities of its surface treatments resistant to mechanical and climatic loads will be found and verified. New transparent elements with integrated functions will have half to a quarter of the heat transfer compared to current practice, reduce the risk of overheating of attic spaces to a negligible level and eliminate the need for cooling. The labor involved in installation on the construction site should be reduced by up to half.
The subject of the project solution is subject to trade secrets (§ 17 to 20 of the Commercial Code).
A skylight is assembled from a window frame, a roof leaf and a mounting frame. The roof wing is made up of a glazing unit with thermally insulating triple glazing, mounted in a fiberglass profile. The sash is attached to the window frame using swing fittings. The frame is made of shaped profiles, made of hardened polystyrene foam to minimize heat flow through the frame. This separate window unit is fitted into a heat-insulating collar – a mounting frame which is anchored to the roof structure. The installation frame is made of supporting elements - wooden prisms attached to the window frame via hardened polystyrene foam inserts. The majority of the mounting frame is made of extruded polystyrene. This non-load-bearing part ensures the connection to the heat-insulating layer of the roof with the minimization of thermal bridges. The window has external dimensions (window frame) of 1285 x 985 (dimensions in mm).
Details catalog available zde.
The following are also participating in the solution: Ing. Antonín Lupíšek, Ph.D., Ing. Jiří Nováček, PhD., Ing. Jiří Novák, Ph.D., Ing. Kamil Staněk, Ph.D.