Registration number: FW03010267
Provider: TA CR - TREND Program
Solver: Ing. Pavel Mlejnek, Ph.D.
Start: 01.01. 2021
End: 31.12. 2023
Partners: InoSens CZ, s.r.o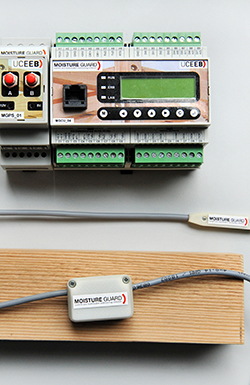 The aim of the project is to design, test in practice and launch on the market in the Czech Republic and the EU a comprehensive system for the permanent monitoring of building constructions of wooden buildings, which it will be able to be integrated directly into the structure of the wooden building and will provide early warning functionality for the home owner in case of detection of dangerous situations. The system will consist of new sensors for measuring parameters in the building structure using LPWAN data communication technology. The system will include an algorithm for data evaluation and detection of anomalous conditions. Current knowledge of the market and experience with the development, deployment and operation of the MoistureGuard system of the collaborating industrial partner InoSens CZ s.r.o., together with the experience with the development of wireless technologies and sensors of the academic partner CTU UCEEB.