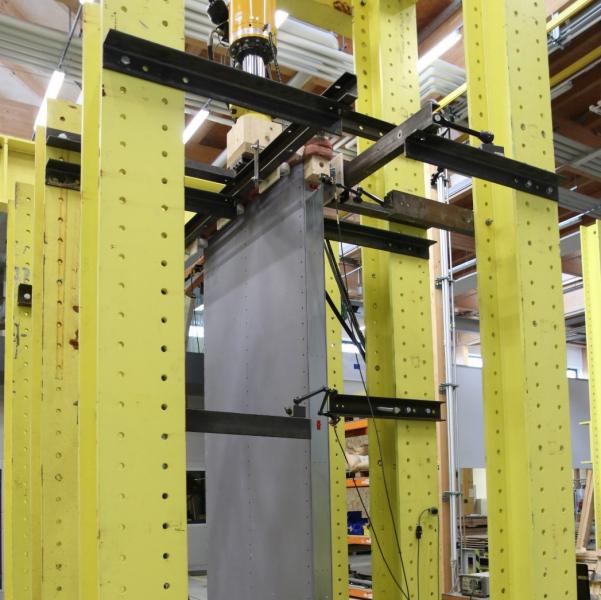 CTU University Center for Energy Efficient Buildings in cooperation with KNAUF Praha, spol. s ro and BORABELA sro performed a load test to verify the load-bearing capacity and stiffness of a modern building system made of thin-walled steel profiles.
During the test, the applied horizontal and vertical loads as well as the horizontal and vertical displacements of the test body were recorded. To measure the displacement, we used laser triangulation distance sensors, linear position sensors and a cable path sensor. The maximum value of the reinforcement bearing capacity of the examined wall panel exceeded 30 kN.
The wall panel with dimensions (length x height x thickness) of 1250 x 2750 x 125 mm was formed by a frame made of thin-walled steel profiles C100/1.2 and double-sided single-layer cladding with Knauf Diamant X 12.5 mm boards made for the entire height of the wall. The supplier of the frame profiles is BORABELA s.r.o. The vertical frame posts were spaced 625 mm apart. The sheathing is attached to the frame with XTB 25 screws with a maximum spacing of 75 mm.
The research is carried out within the National Competence Center CAMEB (Centre for Advanced Materials and Efficient Buildings), which was established in 2019 by the cooperation of the Czech Technical University in Prague, the Technical University of Applied Sciences in Brno and twenty-eight other partners - universities and especially private companies.