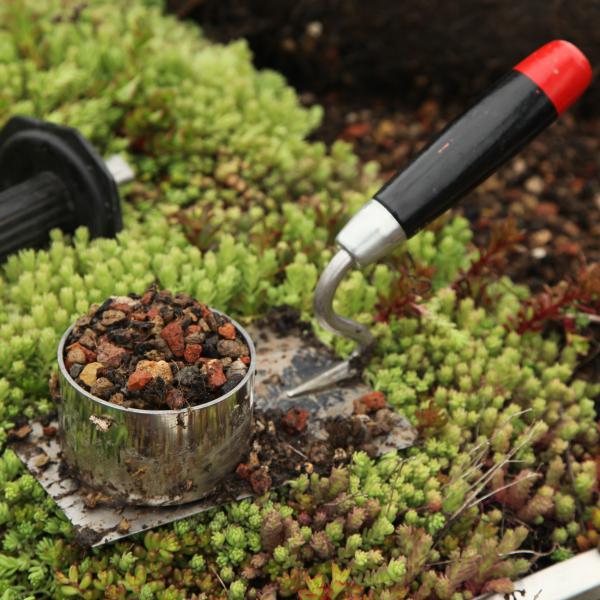 The University Center for Energy Efficient Buildings of Czech Technical University in cooperation with the companies Sedum Top Solution s.r.o. and GreenVille service s.r.o. placed an experimental green roof on the ticket office building of the Malvíny natural swimming pool in the town of Třešť in Vysočín. The aim is to assess the influence of admixtures of pyrolyzed sewage sludge and brick rubble in the substrate.
Researchers from the Urban Ecohydrology team of CTU UCEEB during the implementation of the Recyklace vody a odpadů v rámci zelené infrastruktury měst (REVOZIM)project have developed and are long-term testing a roofing substrate containing recycled brick chips and pyrolyzed sewage sludge.
An experimental green roof containing this substrate was placed on top of the existing PVC waterproofing of the Malvína swimming pool's ticket office building, which had already been constructed with this intention in mind. The area was divided into four parts. On two of them, the standard commercially available Optigreen substrate was used, while on the other two, experimental substrates V2-5 and V2-8 with a proportion of recycled materials were used, where noticeably greener vegetation grew already two months after the start of the experiment.
As part of his diploma thesis, his student Marek Petreje, who received the Professor Bechyná Prize for the best thesis of 2021 in the category of Water Management and Environmental Engineering, took part in research involving an experimental roof in Třešt under the guidance of Michal Sněhota from the Czech Technical University UCEEB and the Faculty of Civil Engineering.