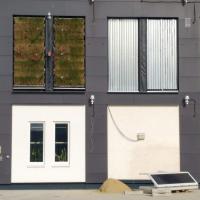 The University Center for Energy-Efficient Buildings of CTU continues to conduct tests of the thermal and moisture behavior of the facades of the perimeter envelope of indoor buildings, which it started in June 2019.
The Laboratory of Building Thermal Technology of the Czech Technical University UCEEB is carrying out experimental research, the aim of which is to compare two currently common technical solutions for the perimeter envelope of indoor buildings with a structure that integrates greenery. In 2020, the collection of measured data on the green facades continues, while experiments will be carried out to optimize the irrigation system.
During the last year, within the project Zelené střechy a fasády jako prostředek ke zlepšení tepelné a vodní bilance v industriálním prostoru they built experimental compositions and equipped them with measuring sensors. Since June 2019, we have been monitoring their thermal and humidity behavior in detail. We analyze the measured data in order to better understand the transport processes in the green layer, the substrate and the ventilated cavity between the bins and the base wall.
One of the goals is to quantify the expected positive effects of greenery on the indoor environment. We also compare the results with the data obtained using the developed dynamic computational model of the green facade.
You can also read about our research in the article Zkoušíme zelené fasády pro industriální prostory.