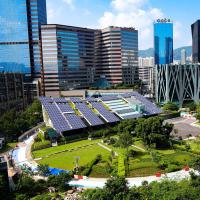 The CTU University Center for Energy Efficient Buildings has joined the management of the new COST Action focused on energy-plus neighborhoods (PED-EU-NET) as part of European cooperation in scientific and technological research. The coordinator of the event is the German research institute Fraunhofer ISE, which specializes in the use of solar technologies in cities.
The task of CTU UCEEB is to coordinate the working group that creates a database of complex local energy projects. It is therefore not only about plus districts, but also about other projects that bring the opportunity to be inspired by leaders in the urban innovation sector. Together with Demir Enerji (Turkey), the University of Bologna (Italy), the IREC research institute (Spain) and other event partners, we want to make relevant information about projects available to target groups of researchers and interested parties from municipalities across Europe.
"Our participation in nové COST Action is related to involvement in projektu SPARCS, where our goal is to connect research and innovation initiatives focused on urban development. We also recently helped create novou příručku EU Smart City Information System (SCIS) about energetically positive neighborhoods," comments Michal Kuzmič from ČVUT UCEEB.
The SPARCS project received financial support from the European Union's Horizon 2020 research and innovation program under grant agreement No. 864242.