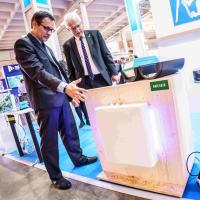 The University Center for Energy-Efficient Buildings of CTU has developed a local ventilation unit in cooperation with the company RECUAIR, which does not produce negative sound effects during its operation. In addition, thanks to its unique design, the device achieves high heat recovery efficiency.
The local ventilation unit with a rotating recuperation exchanger DC 40 is intended for installation directly in living rooms. The noise aspect was therefore one of the priorities of the scientists from CTU UCEEB, who tried to optimize the air flow of the device. They used CFD (Computational Fluid Dynamics) computer simulations, noise measurements in an acoustic laboratory and performance in laboratory conditions.
The 455 x 425 x 105 mm unit works with an air flow of 15 to 45 m3/ha and is equipped with class M5 filters. It is connected to the outside environment by a cylinder with a diameter of 260 mm, which houses a recovery exchanger for recovering heat from waste air with an efficiency of up to 94%. Such high values are achieved thanks to a unique design that prevents the exchanger from freezing.
The device contains a rotary recuperation exchanger driven by a servo drive, which rotates by 180° at precisely defined intervals according to the outside air temperature. This ensures an alternating flow of degraded waste and fresh outside air through the channels of the exchanger. Thanks to this, the unit enables high heat recovery efficiency to be achieved all year round. The greatest potential for use is in cold areas, where outside temperatures reach values below the freezing point.

The device was created as part of a project called Vývoj energeticky úsporných větracích jednotek supported by the Operational Program Entrepreneurship and Innovation for Competitiveness and is protected by a utility model.