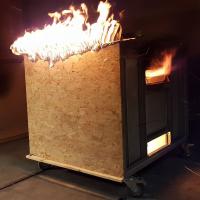 The CTU UCEEB fire laboratory developed and regularly uses the miniFUR furnace for indicative tests, which provide manufacturers with important information about the behavior of building structures or materials in fire conditions. Thanks to this, our partners have the opportunity on a smaller scale to better prepare for financially, time- and technically very demanding large-scale tests in an accredited fire testing laboratory.
MiniFUR (from the English mini-furnace) is used for medium-sized indicative tests of the fire resistance of building structures, such as walls, ceilings, roofs, etc. It consists of an easily dismantled mobile box with internal dimensions of 1.2 × 0.8 m and a height of 0.8 m. Ceiling and both front walls at the same time can be replaced with test samples, or the tested objects can also be placed in the inner space of the furnace.
It is ventilated by holes in the side walls allowing for a natural supply of air for combustion and the removal of heat and smoke. The effect of the fire is ensured by a gas burner with increasing heat output, and in particular in the upper half of the furnace we are thus able to achieve a so-called standard fire, i.e. the course of temperatures according to the standard temperature curve (ISO 834). By default, we measure the temperature of the sample on the side away from the fire, the temperature inside the sample and the temperature in the furnace itself.