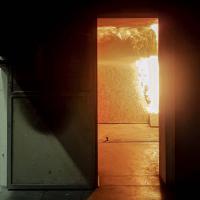 In the fire laboratory of the University Center for Energy Efficient Buildings of CTU, we conducted a large-scale test of a front wall made of wood chip (OSB) boards and a suspended ceiling with Heraklith wood fiber insulation. In addition to the fire-technical characteristics of the materials, we used the test on a real scale to validate mathematical models developed as part of the Security Research of the Ministry of the Interior of the Czech Republic.
Flammability, or, technically speaking, fire reaction class, is a basic characteristic of building materials and, in some cases, a limit for their use in buildings. In practice, it can be determined by a set of small tests. However, the behavior of the facing material in a real situation is best simulated by the Room Corner Test. This is used especially when the cladding structure is complex and its details cannot be tested on a small scale, or when the dimensions of the anchoring or joints exceed the dimensions of the small-scale tests.
How the material is tested can be deduced from the English name. The sample is installed in the room, either as a suspended ceiling with an area of 9 m2, or as a wall covering with an area of over 23 m2. A test burner is placed in the corner of the room, with which the sample is loaded for 20 minutes. The Room Corner Test corresponds to reality, in addition to the dimensions, also due to the increased thermal stress caused by the high output of the burner and the possibility of accumulation of hot gases under the ceiling of the room.
The results verified the behavior in fire and confirmed the reaction to fire class determined by the standard small-scale test route. In this case, however, the main result is the gain of the fire-technical characteristics of the material and the possibility of using tests on a real scale for the validation of mathematical models developed as part of the project VI20162019034: Research and development of verified models of fire and evacuation of people and their practical application in assessing the fire safety of buildings.